Navigating the Invest in QTC app
Below are screen shots of the Invest in QTC app that show basic navigation in the home screen, and how to use the navigation bar and the table of contents.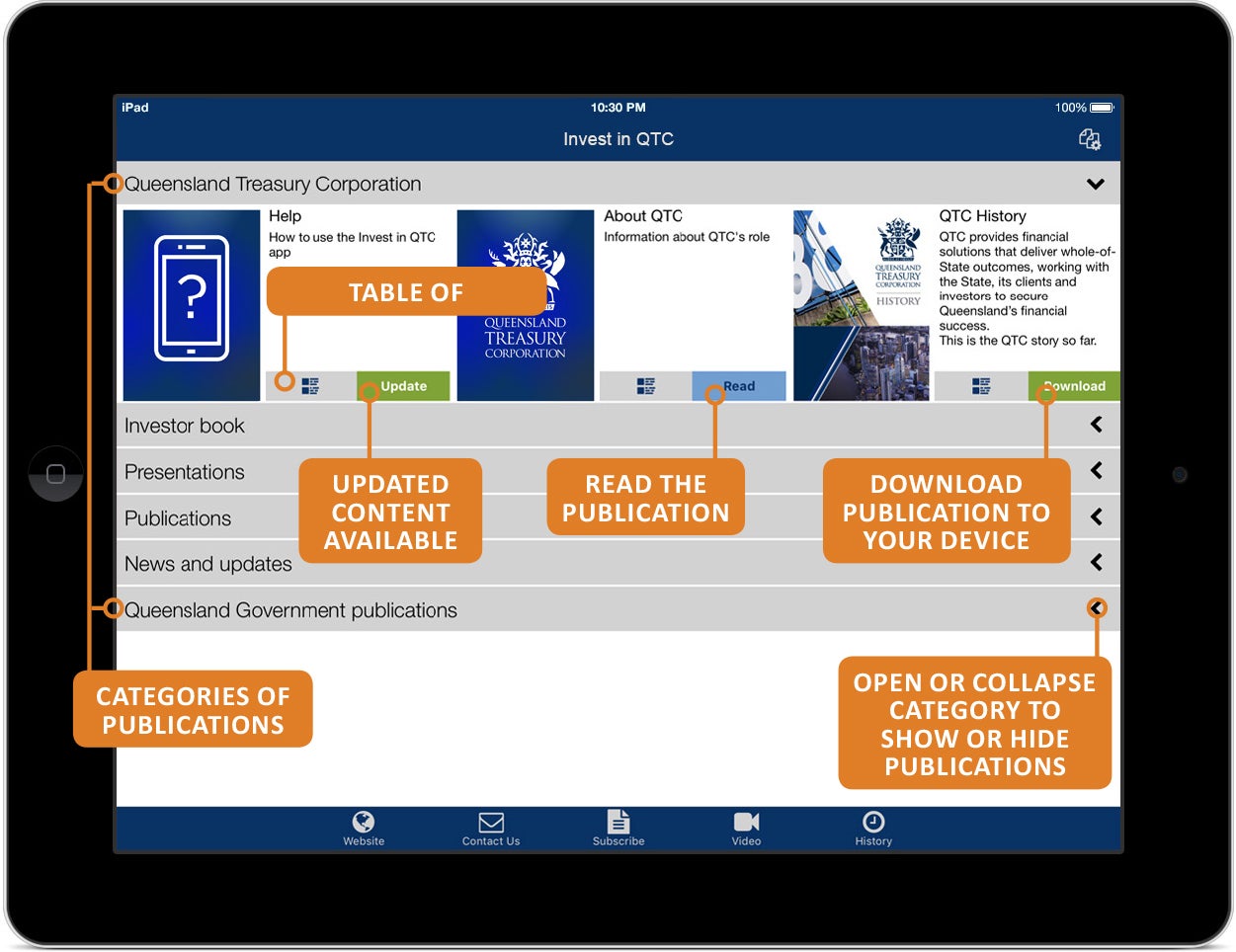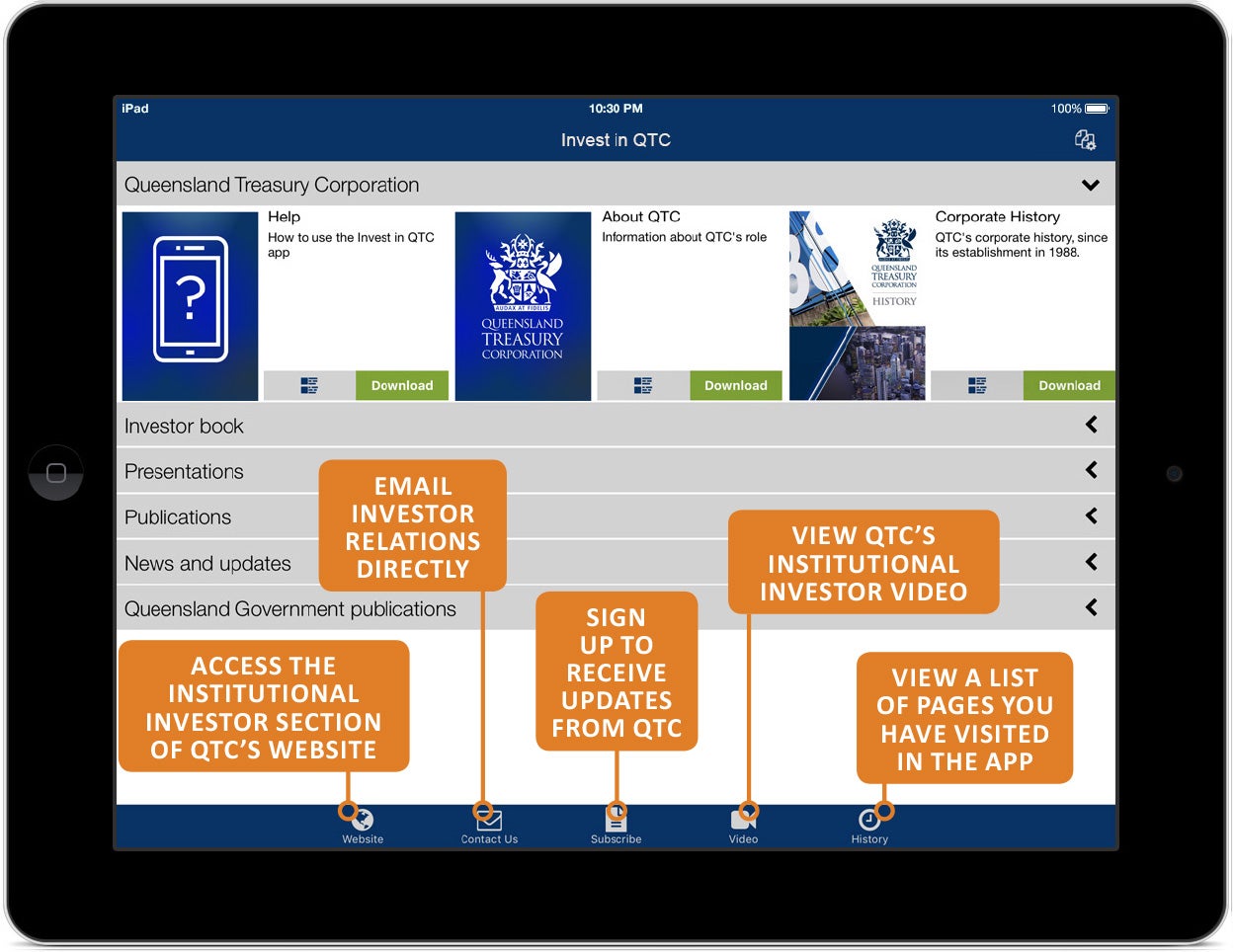 A table of contents is available in QTC's longer publications to help you navigate to the content you want to read. The table of contents displays a thumbnail image and short description of each page/section.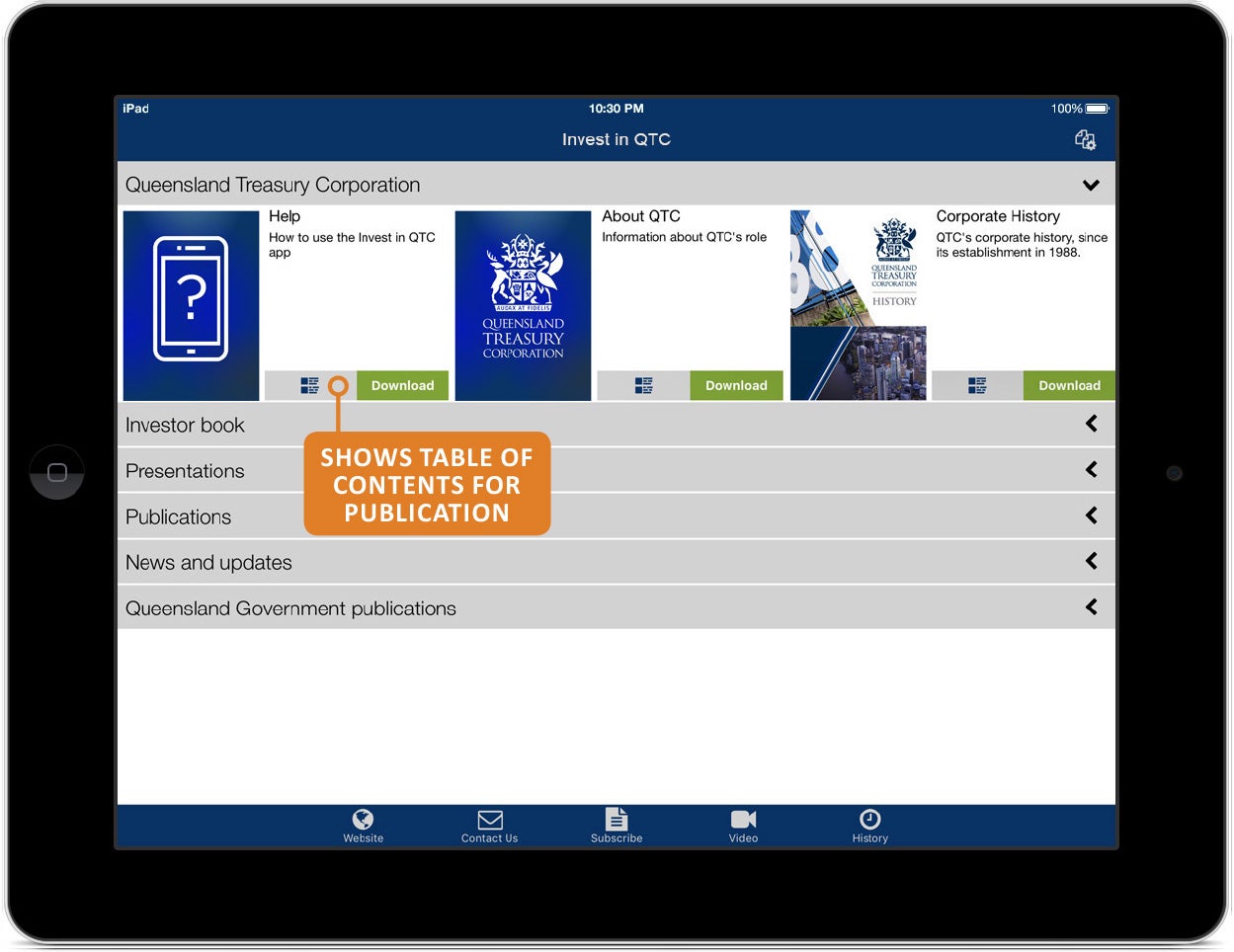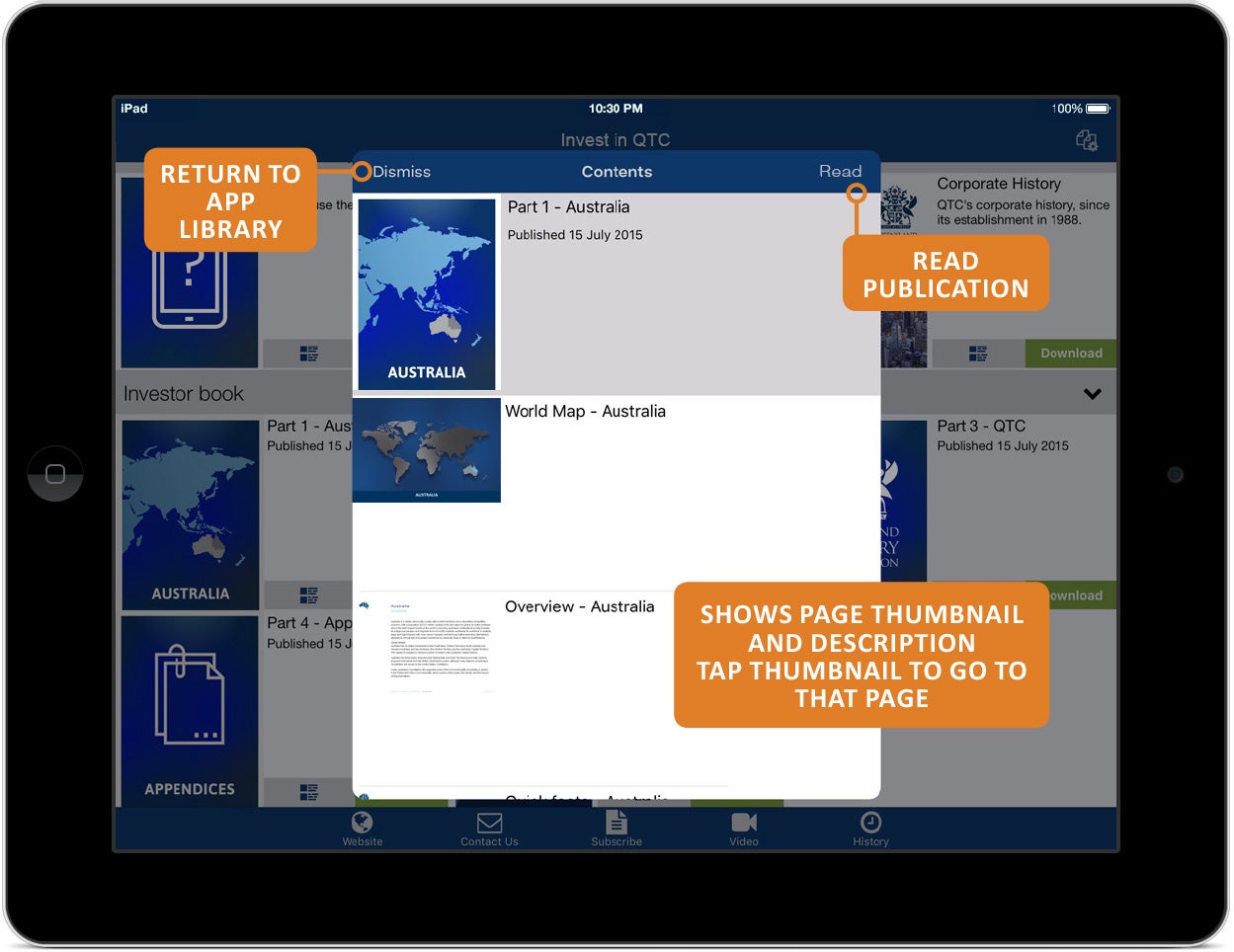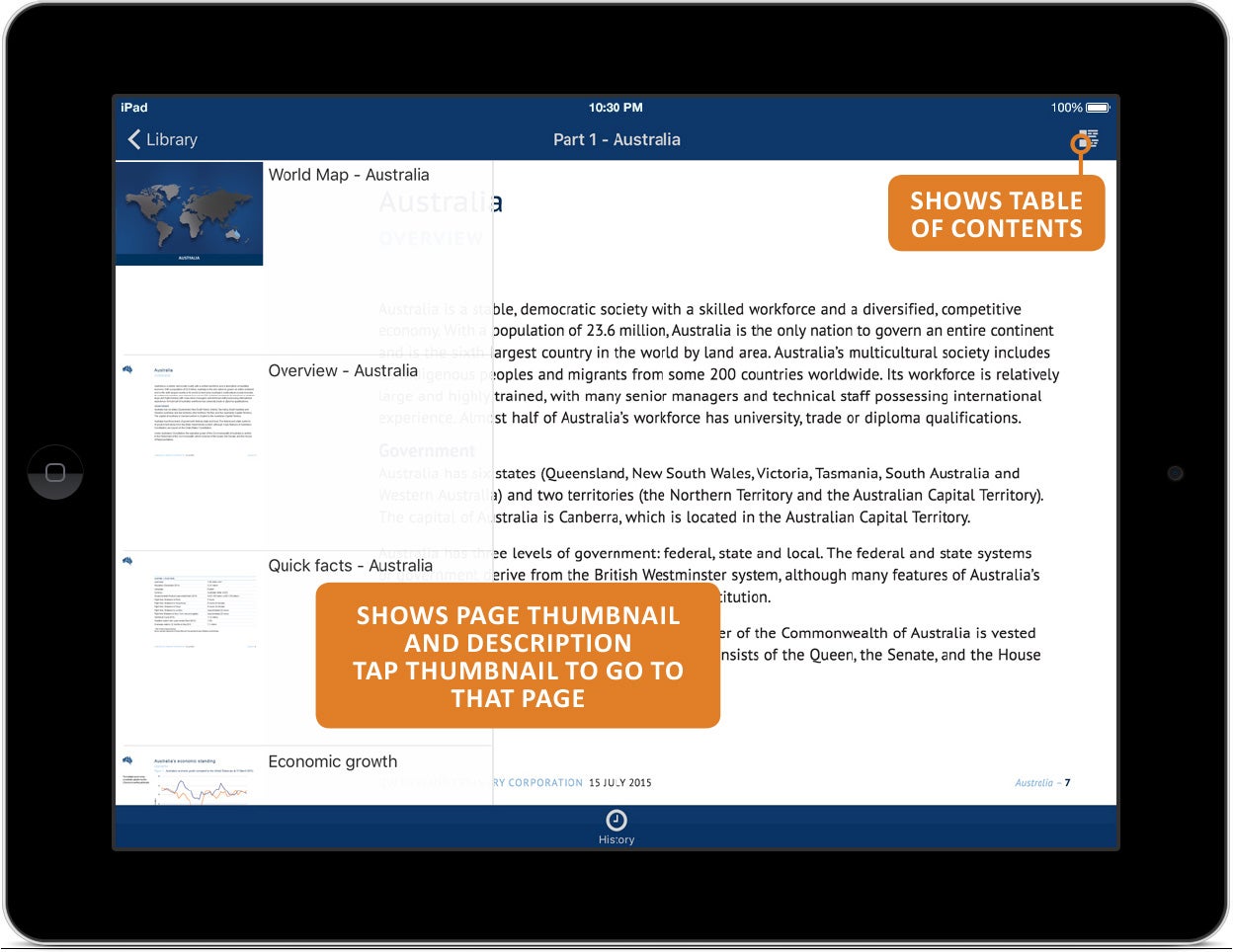 Note: Invest in QTC is not available to users with US based accounts.
Frequently asked questions
The information and material provided in this app as updated from time to time (the Content) is distributed by Queensland Treasury Corporation (QTC) as an information source only. The Content should not be construed as an offer, recommendation, invitation, or inducement, to subscribe for or purchase any security of QTC. The Content does not constitute and is not intended to be financial or other advice and is not to be relied upon as the basis for any investment or other decision. Additional legal notices are contained within the Content, which you are urged to review carefully.
The Content must not be accessed by you in circumstances where access to it could constitute an offer or inducement that would result in a contravention of any laws, rules, directives, regulations or any other restrictions in your local jurisdiction. UK: The Content is intended only for: (i) persons who are outside the UK; (ii) 'investment professionals' as defined in Article 19(5) of the Financial Services and Markets 2000 (Financial Promotion) Order 2005 (the FPO); or (iii) persons falling within Article 49(2)(a) to (d) (high net worth companies, unincorporated associations etc) of the FPO. All such persons together being referred to as 'Relevant Persons'. Furthermore, the Content is directed only at Relevant Persons and must not be acted on or relied on by persons who are not Relevant Persons. Any investment or investment activity to which this document relates is available only to Relevant Persons and will be engaged in only with Relevant Persons. US: The Content may not be accessed by persons who are resident or located in the United States. Save for QTC's US MTN and Global AUD Bond programs, the securities, borrowing programs and facilities described in the Content have not been and will not be registered under the US Securities Act of 1933, as amended, and may not be offered, sold or resold within the United States or to 'US Persons' (as defined in Reg S under the Securities Act) unless in accordance with an effective registration statement or an exemption from registration under the Securities Act.

By installing the app, you acknowledge:
you have read the above legal notice and understand and agree with its contents
you are not a resident of the US or located in the US, and
if you are located in the UK, that you are a 'Relevant Person' as defined above.