2019-20 term debt issuance as at 30 June 2020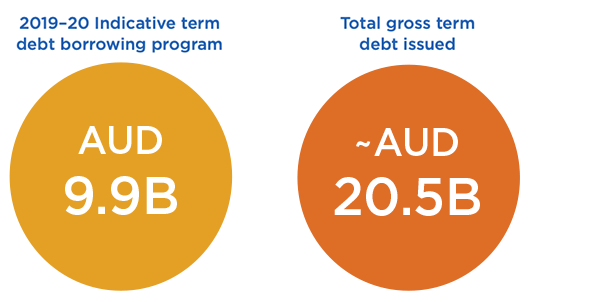 Figures are for the period from the release of the 2019-20 borrowing program (11 June 2019) to 30 June 2020.
QTC completed its indicative 2019-20 borrowing program on 19 February.
To further strengthen its funding position, QTC raised an additional ~AUD10.6 billion, taking its total gross term debt issuance to ~AUD20.5 billion.
QTC bought back and cancelled ~AUD1.3 billion of QTC bonds, resulting in net term debt issuance of ~AUD19.2 billion.
The Queensland Government will publish its COVID-19 Fiscal and Economic Review (C19-FER) in September 2020. The C19-FER will report the impacts of COVID-19 on the 2019–20 financial year and will revise the forecasts for 2020–21 and the forward estimates.
Following the C19-FER, QTC will announce its indicative 2020–21 borrowing program.
Short-term debt
QTC expects to maintain a minimum of approximately AUD5 billion of short-term debt outstandings.