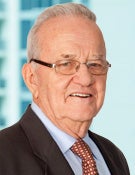 Sir Leo Hielscher AC
BComm, D Univ Griffith (Hon), AAUQ, AASA, FAIM, FCPA, FFTP (Hon)
Appointed 1 July 2010, following retirement from the role of Chairman on 30 June 2010 that he held for 22 years.
Sir Leo Hielscher has more than 68 years' experience in the areas of Government, the banking and finance industry, domestic and global financial markets, superannuation industry and as an independent company director. He was the Under Treasurer of Queensland for 14 years (1974–1988) before his appointment as Chairman of the Queensland Treasury Corporation (Advisory Board) in 1988. In 1991, the Advisory Board became the Queensland Treasury Corporation Board and Sir Leo was appointed as its inaugural Chairman.
Sir Leo is also Chairman of Austsafe Ltd, Independent Superannuation Preservation Fund, and the Queensland Government Health Reform Advisory Panel, and a Director of the American Australian Association Ltd. As a company director, Sir Leo has considerable experience at board level and has been associated with a number of public and private sector boards. Sir Leo was awarded an Eisenhower Fellowship in 1973, a Knight Bachelor in 1987, an Honorary Doctorate of Griffith University in 1993 and The University of Queensland in 2017, and a Companion in the Order of Australia (AC) in the General Division in 2004. He was honoured as a Queensland Great by the Queensland Government in 2007. Sir Leo retired as Chairman of the QTC Board on 30 June 2010.