Diverse range of funding facilities
QTC funding sources by facility
QTC maintains a diversified global focus to meet its funding requirements. $A Bond and Euro MTN facilities are admitted to trading on the regulated market of the Luxembourg Stock Exchange (the LuxSE) and listed on the Official List of the LuxSE.
QTC has chosen Luxembourg as its 'home member state' within the European Union in respect of its Global $A Bond and Euro MTN facilities.
*AGG – Australian Government Guaranteed. Data as at 30 June 2017
Note: Chart values are AUD face value millons
Short-term and Long-term facilities
QTC has established onshore and offshore funding facilities to enable access to funds when required.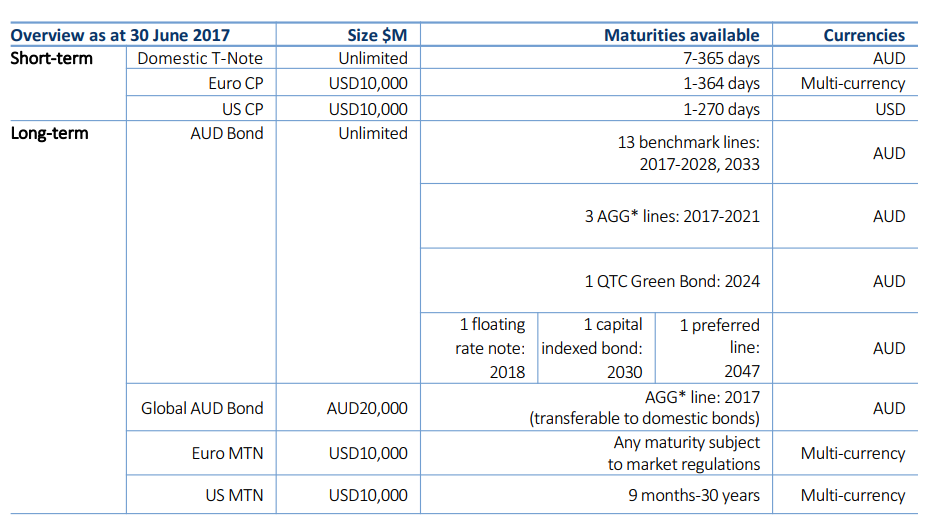 The funding facilities listed are supplemented with public issues and private placements.
*AGG – Australian Government Guaranteed. Data as at 30 June 2017
Funding sources by investor location
Funding approach
QTC takes a conservative risk management approach in all its borrowing and on-lending activities, with a balanced debt maturity profile supported by liquid reserves.
QTC undertakes comprehensive, regular market and investor updates through its roadshow program to ensure all markets sectors are kept informed on Queensland's economic and fiscal position.
QTC is committed to maintaining valued long-term investor and intermediary relationships. QTC's domestic and global investors include central banks and other sovereign investors, multi-national finance, superannuation and investment corporations, and major domestic and international banks.
Approximately 30 per cent of QTC's funding is sourced from offshore based investors.