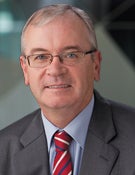 Gerard Bradley
BComm, Dip Adv Acc , FCA, FCPA, FAICD, FAIM
Chairman
Appointed 10 May 2012 with tenure to 30 June 2019
Board committees
Member, Human Resources Committee
Member, Funding and Markets Committee
Prior to his appointment as QTC's Chairman, Mr Bradley was the Under Treasurer and Under Secretary of the Queensland Treasury Department, a position he held from 1998 to 2012. He was also a QTC Board member from 2000-2007.
Mr Bradley has extensive experience in public sector finance gained in both the Queensland and South Australian treasury departments. He was Under Treasurer of the South Australian Department of Treasury and Finance from 1996 to 1998, and of Queensland's Treasury Department from 1995 to 1996. Mr Bradley held various positions in Queensland Treasury from 1976 to 1995, with responsibility for the preparation and management of the State Budget and the fiscal and economic development of Queensland. He is currently a Director and Chairman of Queensland Treasury Holdings Pty Ltd and related companies, and a Director of Star Entertainment Group Ltd.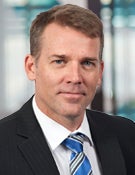 Warwick Agnew
BEcon, MSocSc (Econ), MAppFin
Appointed 13 November 2014 with tenure to 30 June 2020
Board committees
Member, Accounts and Audit Committee
Throughout his 20 year career, Warwick Agnew has gained significant experience in both the public and private sectors. In particular he has gained invaluable experience in social and economic infrastructure projects, economic analysis and policy, financial and commercial procurement, and corporate finance advisory services.
Prior to his appointment as an executive in Queensland Treasury in June 2014, Mr Agnew was a senior leader for nine years in the private sector in ASX listed entities Transfield Services and Macquarie Capital.
Mr Agnew commenced his career at Queensland Treasury in 1995 as part of the graduate program, working in the business branch area of the department.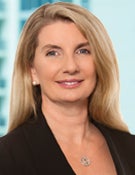 Tonianne Dwyer
B Juris (Hons), B Laws (Hons), GAICD
Appointed 14 February 2013 with tenure to 30 June 2020
Board committees
Chair, Human Resources Committee
Tonianne Dwyer is a lawyer by profession with a career of more than 25 years in international investment and finance in both executive management and board positions.
She has held senior roles with Harnbros Bank Limited and Societe Generale and was an Executive Director of Quintain Estates & Development PLC, a listed United Kingdom property company involved in investment and urban regeneration.
Ms Dwyer's executive experience covers a broad range of sectors, including real estate investment and development, financial services, health and aged care, education, research and development, and media, including a role with the finance division of the UK Department of Health. She has extensive experience of financing social infrastructure and of leading teams on public private partnership bids. Her operational experience includes UK, Europe and Wall Street.
Ms Dwyer currently holds directorships on Metcash, DEXUS Property Group, DEXUS Wholesale Property Fund and Cardno Limited. She is also a Senator at the University of Queensland.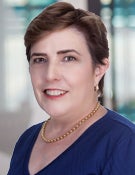 Anne Parkin
B Science (Hons), Dip. Ed, MBA, MAICD
Appointed 1 July 2016 with tenure to 30 June 2019
Board committees
Member, Accounts and Audit Committee
Member, Human Resources Committee
Anne Parkin has more than 25 years of international management and board level experience across Asia-Pacific banking and financial services.
Ms Parkin has held diverse leadership roles in domestic and global broking and banking, superannuation administration, retail management and education in both the public and private sectors. At an executive level, Anne has experience operating in highly regulated businesses including banking with Credit Suisse, UBS, and in Australian superannuation.
Recently, Ms Parkin was a Non-Executive Director of both Credit Suisse Securities in Malaysia and the Philippines. As an Executive Director, she was a member of the Hong Kong Control Committee responsible for oversight of operational risk for Credit Suisse Hong Kong and its affiliates, while as Operations Executive, she was accountable for operational matters with local regulators including the Hong Kong Monetary Authority and Hong Kong Securities & Futures Commission.
In recognition of her expertise in the Asia-Pacific, Ms Parkin was invited to participate in the Asia Securities Industry & Financial Markets Association (ASIFMA).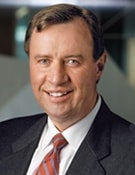 Stephen Roberts
BEcon
Appointed 8 June 2017 with tenure to 20 June 2020
Board committees
Member, Funding and Markets Committee
Stephen Roberts brings extensive investment banking, leadership and governance expertise, developed across his career in the global financial markets. He is the former Chief Executive and Chief Country Officer of Citigroup Australia, where he was responsible for the Citi franchise in Australia and New Zealand. Prior to that, Mr Roberts was the Managing Director, Institutional Business, Citigroup Australia, with responsibility for the institutional business, including corporate and investment banking, markets, and transaction services. He has also held senior roles with Salomon Brothers/Citigroup Hong Kong, Lehman Brothers in Hong Kong, Salomon Brothers in London, Melbourne, Sydney and New York. Mr Roberts is a current Director of the Great Barrier Reef Foundation, a Director of the Bradman Foundation, and an Adjunct Professor of Finance, Sydney University.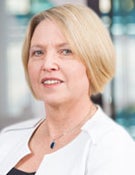 Karen Smith-Pomeroy
Assoc. Dip (Accounting), MAICD, FIPA, FFIN
Appointed 9 July 2015 with tenure to 9 July 2019
Board committees
Chair, Accounts and Audit Committee
Member, Funding and Markets Committee
Karen Smith-Pomeroy is an experienced financial services senior executive with a specialty in risk and governance.
She has held senior executive roles with Suncorp Group Limited (1997-2014), including Executive Director, Suncorp Group subsidiary entities (2009-2014). She has also held positions on a number of Boards and committees including Qld Department of Local Government, Community Recovery and Resilience, CS Energy Limited and Tarong Energy Corporation Limited.
Ms Smith-Pomeroy is a Non-Executive Director and Risk Committee Chair of National Affordable Housing Consortium, Audit and Risk Management Committee member of Department of Infrastructure, Local Government and Planning, and Qld Advisory Board member of Australian Super.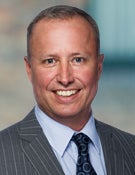 Jim Stening
Dip Fin Serv, FAICD
Appointed 13 November 2014 with tenure to 30 June 2020
Board committees
Chair, Funding and Markets Committee
Jim Stening has more than 30 years' experience in financial markets in the fixed income asset class, including hands-on trading and investing in Australian and global capital markets.
Mr Stening has extensive experience in debt markets, business development, executive management and corporate governance across a diverse range of economic cycles. He has held senior roles at NAB, Merrill Lynch and Banco Santander in addition to his role as founder and Managing Director of FIIG Securities Limited, Australia's largest specialist fixed income firm.
Mr Stening is a Non-Executive Director of FIIG Securities Limited (and related Companies) and OZFish Unlimited Limited.