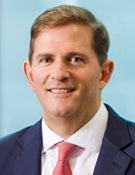 Philip Noble
BEc, BAgSc
Philip Noble was appointed as Queensland Treasury Corporation's Chief Executive on 1 December 2010.
Prior to joining QTC, Mr Noble's career had included many senior roles in the international banking sector. He has held previous positions with Deutsche Bank in Sydney as their Director of Global Markets, and with Bankers Trust Australia in Melbourne and Sydney, as their Vice President of the Financial Markets Group.
His most recent previous appointment was Managing Director and Head of Fixed Income Division Australia and New Zealand at Credit Suisse in Sydney, where he had responsibility for establishing and delivering a 'full service-provider' business model for Australian and New Zealand clients. Mr Noble also held a number of board positions at Credit Suisse and was a member of their Executive Management Committee in Australia.
With his extensive commercial experience, and significant expertise in treasury and risk management, fixed interest and debt capital markets, and an understanding of government priorities and borrowing requirements, Mr Noble has brought with him a wealth of experience in domestic and international banking to QTC's leadership team.